Thor - Adopted 7/7/02
| | | |
| --- | --- | --- |
| | New pics of the boys! May 7, 2003 | |
| Thor in his Harley Hat | These are some Cool Dudes! | Barkley in his Harley Hat |
Thor is a very active 2 year old neutered Smooth Collie male. He is a special needs dog in terms of behavior issues, not because he is a bad dog, but he has fear issues due to lack of socialization. Thor was surrendered to MWCR by his owner because (as a first time dog owner) she felt an environment with an experienced and confident dog owner would be better for Thor, whom she adopted when he was 1 ½.
Thor is a very sweet and polite boy who needs the opportunity to learn to be a dog and to overcome his fears of new situations. He is very good with other dogs and likes kitties. Thor does not do well with young children or over-zealous teenagers, he is startled from their quick and seemingly aggressive movements. He would learn to be ok with a calm dog-friendly child over the age of 10 who took the time to let Thor trust them. Thor is fully house-trained and very obedient unless he is fearful of something and then reluctantly obeys. He is good with people, but needs to greet them on his terms. If someone tries to approach him he shows fear, but if the person ignores him and lets Thor come to them on his terms, he's just fine and very happy to meet new people.
Thor needs to be in a situation where he can be active in a fenced yard since many new situations frighten him. His recall has improved immensely with this foster mom because he trusts her, but if he is afraid of something he would run away from it. He walks on leash with a gentle leader because he fights to bolt when he is fearful of something and would slip out of a regular collar. When Thor is relaxed and feels confident he is very playful with other dogs and very puppyish in his antics. He loves to chase balls and will return them to be thrown again. He really loves being with other dogs and is learning a lot from them. At first he did not bark very much, but his Collie foster sisters have changed that. Thor has found his voice and likes to let everyone know he can use it! He has become the Don Quixote of dogs - which means that he barks at everything that he fears. Thor rides very well in the car and has learned to jump willingly into the car to go to the FULLY FENCED dog park. Thor is also very much a herder. He gives his foster mom little nips and nudges and wants to chase motorcycles and bicycles as well as other dogs.
Thor is very affectionate and really wants a gentle human leader to bond with and trust, someone who will be confident and firm, but also kind, with him. He will trust a human that is willing to take the time and effort with him. A situation with an active lifestyle with at least one other dog will help him work through his fears rather than avoid them would be best for Thor. He shows much promise of becoming a normal Collie and Thor very much wants to be a normal Collie; he just needs the right people and environment to show him how to be one. Thor has blossomed in his two weeks in foster care.
Latest Updates:
1/21/03
Foster mom,
Thank you for your nice note to my new family. I love them a lot and I KNOW they love me! My new dad says I'm showing great strides every single day. I love my brother too, and always sleep by him on the couch at night. My mom and dad said they would be glad to talk to any potential adoptive family about adopting "unsocialized, behaviorally challenged collies" like me because they say I'm worth it!
Thank you for taking me in and starting me off on the right paw, and for being honest about my problems and what kind of help I would need right from the start.
Love,
Thor (Mr. Smoooooooth)
Thor and Barkley
1/20/02
Hi all,
Last summer I was foster mom to Thor, the smooth collie boy, who was unsocialized and pretty much scared to death of everyone and every new situation. We saw Thor over the weekend and I wanted to share with you how far he has come with the love and patience of Rob, Mel and Barkley Stanek. I'm so very proud of all of them!
After a VERY COLD trip to the dog park we went to the K-9 Cafe where the dogs are welcome to come into the cafe for treats with their owners. Thor was hanging out in there with the rest of the dogs like he'd done it every day of his life. Last June he would have freaked out even with a gentle leader collar on and acted like a complete spaz dog.
Mel and Rob - thank you for all of your training, love and patience with Thor. It's so rewarding to see how far Mr. Smooth has come under your care!! (Barkley's done a great job being a good collie brother and showing Thor how to be a dog.) It just goes to show that so many of these dogs that we see have the potential to have a better life... we just need to find the right families to make it happen for them.
Great job!
Andi
---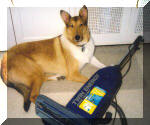 8/4/02
Last night's thunderstorms scared Thor to death. I got both Thor and Barkley up on the bed with me and Thor was shaking like a leaf. Then the CUTEST thing happened. Usually, Barkley doesn't like to share his "on the bed with mom" space with Thor, and has done so in the past with begrudging low growls.
Well, last night I wrapped Thor in a blanket and purposely snuggled him into Barkley on the bed with me. Barkley did his usual complaining, but sensed that Thor was really scared because Thor was panting so hard. Next thing I know, Barkley got up, snuggled into to Thor, put his paw on Thor's tummy for comfort and began NUZZLING into his neck, and licking his whole face for about five minutes! I couldn't believe it! When he was done, Barkley put his head down next to Thor, but still kept his paw on Thor's tummy for comfort. The little peanut calmed down and the two of them fell asleep next to me. It was a paternal thing with Barkley and the cutest interaction I've seen between these two EVER! We're really enjoying Thor as our new addition to the family.
- Mel
---
Hi everyone.
Wanted to give you an update on my little "Bat Ears" (Rob calls Thor his little "fox"). During Thor's first night, a thunderstorm rolled in and I woke up to about 55 pounds of hound laying right on top of me! He was so cute. I reassured him and he went back to sleep.
He follows Barkley everywhere and does everything Barks does (including, thankfully, eating and drinking). This morning on the bed, he caught a glimpse of himself in the mirror. He growled and growled . . . "Who is that dog?!"
Last night, Anna, our seven year old little neighbor girl came over and wanted to meet Thor. He barked at her and ran away a lot, but by the end of her visit, he came pretty close and was actually interested in her. Anna wants to be a vet (because she loves Barkley and other animals) and will probably be the child that will turn the cards for Thor.
That's it for now. We love him dearly; he is so gentle and pretty. Barks has
warmed up to him too.
Andi, you did an awesome job fostering Thor! Thank you so much for taking as much time and care as you did with him. It made all the difference for us.
-- Rob and Mel
---
Mel and Rob are now the proud parents of Thor, aka Mr. Smooth.
I understand that the first day went very well and he's having a great time with his new collie brother, Barkley. He has a great big yard to run around in and explore.
I'm very happy that Thor has found such a great family for his forever home. I know he'll be very happy there.
Daisy, Tasha and I became very attached to him during the 6 weeks that he was at our home.
Congratulations Mel, Rob, Barkley and Thor!
Thor was fostered in Minneapolis, MN.